Uninvited
Simon and Schuster / Pulse
When rejection comes back to bite you...
Jordan's life sucks. Her boyfriend, Michael, dumped her, slept his way through half the student body, and then killed himself. But now, somehow, he appears at her window every night, begging her to let him in.
Jordan can't understand why he wants her, but she feels her resistance wearing down. After all, her life -- once a broken record of boring parties, meaningless hookups, and friends she couldn't relate to -- now consists of her drinking alone in her room as she waits for the sun to go down.
Michael needs to be invited in before he can enter. All Jordan has to do is say the words....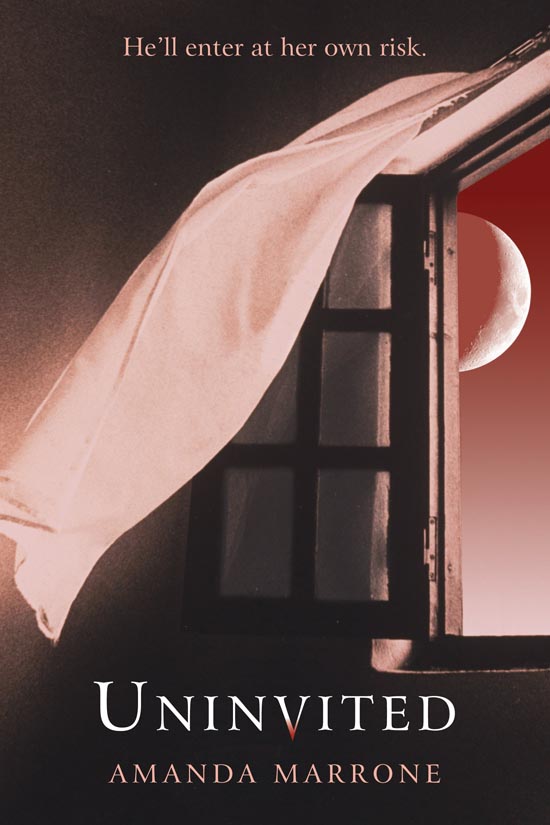 School Library Journal Review:
"Vampire novels have timeless appeal for teens, and without being heavy-handed or didactic, Marrone raises the bar by creating a protagonist who has an effective self-realization of moral issues. Uninvited is a fast-paced vampire novel with soul."
Teens Read Too Review:
"Readers who enjoy books a little out of the ordinary, especially the dark and suspenseful, should run out and grab this one as soon as possible. It takes one of the most familiar creatures of the supernatural genre and manages to tell a story unlike any you've read before."
~Winner of the 2003 Tassy Walden Awards for New Voices in Children's Literature
~American Library Association Popular Paperback for Young Adults (2009)
~Nominated for an American Library Association Quick Pick for Reluctant Readers.
~Books A Million Teen Book Club Selection February 2008
---
Revealers
Simon and Schuster / Pulse
Witchin' ain't easy…
Jules has a rebellious streak, a massive crush on Connor, and the abilities of a Revealer witch. By day, she and her coven friends seem like typical high school seniors. By night, they have the power to make werewolves, vampires, and ghosts reveal themselves, so they can destroy them. It's not exactly cheerleading, but at least the girls know they're doing the world some good.
One by one, Jules's friends turn eighteen and are initiated into the coven's inner circle. And one by one, they are getting completely freaked out. Jules is the youngest, and though her friends are too scared tell her what's going on, something's clearly not right. As her birthday approaches, Jules realizes she's got to find out what's behind the shadows of her coven before it's too late to save her friends...and herself. But what she discovers may be too powerful for even the toughest witches to defeat.
Read the first chapter here: http://books.simonandschuster.com/Revealers/Amanda-Marrone/9781416958741/excerpt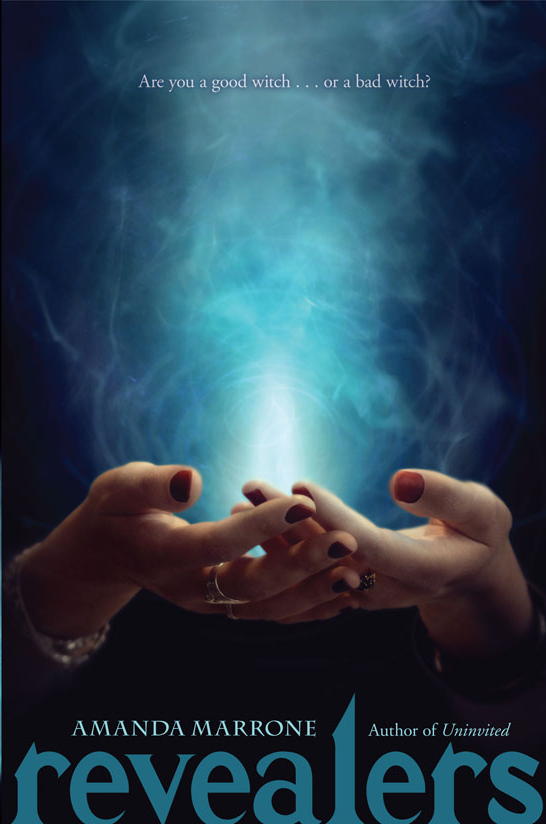 School Library Journal Review:
"This story grabs readers and carries them along to the entertainingly surreal and totally unexpected climax. A secondary plot of forbidden romance between Jules and the coven leader's son adds to the mood. Throughout, the characters become more clearly defined with quirks and unique traits, and how each girl deals with what she learns during her induction remains true to her personality. This supernatural thriller will keep genre fans happy and waiting for more from this author."
Assembly on Literature for Adolescents (ALAN) Review:
"Told with a smooth, light tone that presents unassuming great action and teen drama, this is one for the vampire, werewolf, ghost, demon and witch lover all in one. A little bit of everything, I found this book to be a delicious mix that I would love to read again."
Teens Read Too Review:
"REVEALERS is a spooky, suspenseful read, with a unique paranormal world. Readers will enjoy Jules's no-nonsense attitude and applaud her courage in trying to protect her friends and do what's right…the many plot surprises will keep them guessing until the very end, and the conclusion is hopeful without being pat."
~Books A Million Teen Book Club Selection 2009
---
Devoured
Simon and Schuster / Pulse
There's always one bad apple...jealousy can be hard to swallow.

Megan's twin sister Remy died in an accident nine years ago, and she's been haunting her ever since. Knowing how crazy that sounds, Megan keeps this secret to herself and tries to lead a normal life. But when she takes a summer job at Land of Enchantment to keep an eye on her new boyfriend and his lovesick best friend, Samantha, she meets fellow employee Luke who can see Remy, too. Things get even twistier because Megan's new friend Ari is sporting a massive crush on Luke, who seems to be developing a massive crush on Megan…making for a love triangle that's positively possessed.
Megan wants to keep her distance from Luke, but when Remy's visions get crazy violent; she knows she needs his help. Because someone's definitely in danger...the only question is who?
Publishers Weekly Review:
"Marrone crafts a creepy and thoroughly captivating story of love and jealousy…takes the typically complicated geometry of young love and follows the threads through an eerie mystery that readers should gobble up even while it gives them shivers."
From School Library Journal
"Devoured
is a murder mystery and a ghost story with a modern-day "Snow White" twist. The plot is fast-paced and full of suspense, gripping readers right from the start—the book will be devoured by fans of the supernatural."
---
Slayed
Simon and Schuster / Pulse
It's a dirty job but someone's got to do it...

The Van Helsing family has been hunting vampires for over one hundred years, but sixteen-year-old Daphne wishes her parents would take up an occupation that doesn't involve decapitating vamps for cash. All Daphne wants is to settle down in one place, attend an actual school, and finally find a BFF to go to the mall with. Instead, Daphne has resigned herself to a life of fast food, cheap motels and buying garlic in bulk.
But when the Van Helsings are called to a coastal town in Maine, Daphne's world is turned upside down. Not only do the Van Helsings find themselves hunting a terrifying new kind of vampire (one without fangs but with a taste for kindergarten cuisine), Daphne meets her first potential BF! The hitch? Her new crush is none other than Tyler Harker, AKA, the son of the rival slayer family.
What's a teen vampire slayer to do?
School Library Journal Review:
"Marrone delivers an action-packed story that is full of suspense, intrigue, drama and romance."
---
Magic Repair Shop Books
Simon and Schuster / Aladdin
A three book middle grade series about twelve-year-old Maggie Malloy's apprenticeship in McGuire and Malloy's Magic Repair Shop
"I'm working for a magic repairman and odds are high something will happen—probably something bad."
Master of Mirrors (March 2011)
---
The Multiplying Menace
Simon and Schuster / Aladdin

Twelve years old, Maggie Malloy's wishes always come true. But Maggie's secret wish is to find someone just like her. Maggie's wish seems like it's finally coming true when she moves and discovers an old magic repair shop. There she learns how to repair cauldrons, break disfiguring hexes, and mend magic hats that won't stop duplicating. But Maggie is in more trouble than she bargained for when evil magician Milo the Magnificent comes to town with his deadly magic act. Can Maggie stop Milo before it's too late?
School Library Journal Review:
"...the plucky characters and engaging plot will draw readers in and have them waving their wands in hopes of making the next book in the series appear."
---
The Shape-Shifter's Curse
Simon and Schuster / Aladdin

Maggie and her friends are off to Scotland to see what level magician Maggie is. There she meets a depressed selkie who endlessly searches for her hidden sealskin so she can escape back into the sea, and Rhona's daughter, Lyra. But when a panther attacks their host, Maggie and friends must put the test on hold to figure out who conjured the creature and why. Add a sneaky black cat, Hasenpfeffer's crazy antics, and a dangerous mirror to the mix and the next victim might very well be Maggie.
---
Master of Mirrors
Simon and Schuster / Aladdin

Coming March 2011
Mirrors have never been kind of Maggie, especially the one in Mr. McGuire's Magic Repair Shop. This time is no exception. The evil magician Milo the Magnificent is still trapped in the magic shop mirror, but he's hatching a plan to shatter his way out.
Milo and a new friend seeking revenge on Maggie's family kidnap her friends and Hasenpfeffer, forcing her to head into the mirror to rescue them—or become trapped herself—forever.
---